As is known, yesterday the terrorists committed a massacre in Vienna. In relation to that, the Armenian Prime Minister expressed condolences to the Austrians in a peculiar way.
In particular, Pashinyan stated in his Twitter that they (the Armenians) "have been fighting the Turkish-Azerbaijani terrorist tandem for over a month now".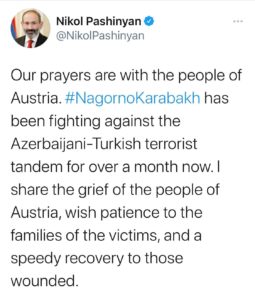 If one's checks the locations of the shootings in Vienna, one was the quarter of the city, where a Jewish synagogue and a Jewish center are located.
The "Jewish question" has always been controversial in Armenia and the Armenian society, as part of the Armenian society believes that "Jews organized the so-called Armenian genocide". I have already lost count of how many times a monument to the victims of the Holocaust was desecrated in Yerevan, and now accusations against Israel and the Jews are coming again from Yerevan.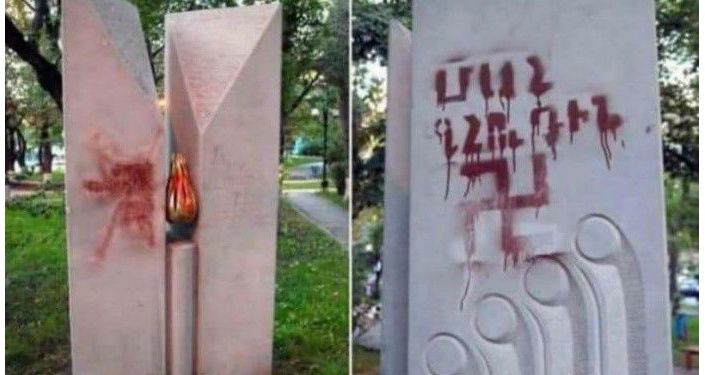 But I would like to draw your attention to another fact. in the 1980s, Armenian terrorists together with their Palestinian colleagues participated in the bombings of Jewish synagogues.
For example, in October 1980, a bomb was planted in front of a synagogue on Rue Copernicus in Paris. The explosion killed 4 people, 32 were injured.
A citizen of Cyprus, certain Dimitriu Giorgiu, came to the attention of the police as one of the organizers of this terrorist attack. He was detained in Paris in 1981, while trying to fly to Beirut.
He was interrogated and released, but during the interrogation it turned out that an ASALA member Monte Melkonian was hiding behind a fake passport and name. Later he was detained again, when he tried to board a flight to Beirut once more. This time he was released after a series of threats and terrorist attacks against French institutions by Armenian terrorist organizations in Lebanon.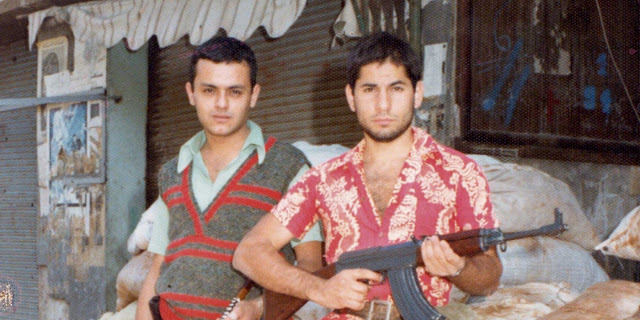 This is the same Monte Melkonyan whom Mr. Pashinyan and the whole Armenia consider a national hero, there are streets and schools named after him, and monuments are erected in his honor. One of these monuments is located in the district center of Khojavend in Nagorno-Karabakh.
It is a curious principle, to glorify some synagogue attackers, while calling terrorists other synagogue attackers. Is this a deliberate selectivity or a special form of amnesia?
The cooperation of Armenian and Palestinian terrorist groups against Israel is actually a very extensive topic, and I only touched upon just one episode.