TOURISTS have been warned against staying in western hotels in Turkey due to an imminent terrorist threat.
The US State Department issued stark advice to anyone thinking of travelling to Turkey, claiming US branded hotels in Adana are at particular risk.
The city's US consulate has warned citizens it has "obtained specific and credible threats of potential terrorist activity."
A statement said: "The US State Department continues to warn US citizens of increased threats from terrorist groups throughout Turkey.
"US citizens should avoid travel to southeastern Turkey and carefully consider the risks of travel to and throughout the country.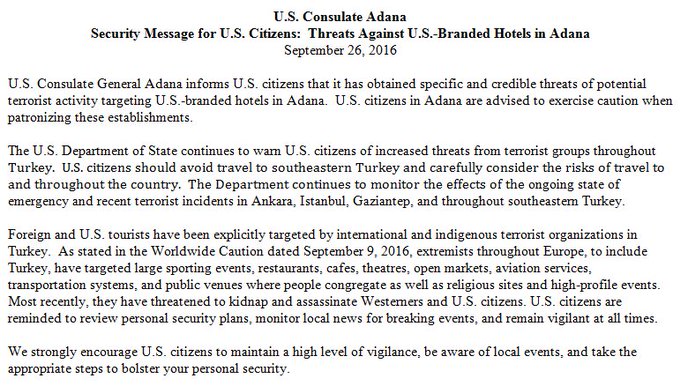 "Foreign and
US
tourists have been explicitly targeted by international and indigenous terrorist organisations in Turkey.
"We strongly encourage US citizens to maintain a high level of vigilance, be aware of local events and take the appropriate steps to bolster your personal security."
Turkey has been rocked by a series of bombings and attacks in the past few months, as well as a failed coup attempt.
One high profile terrorist attack was at Istanbul's Ataturk Airport in June, which left 45 people dead and hundreds more injured after gunmen opened fire and detonated suicide bombs.
A failed military coup in July led to the deaths of more than 300 people, and in response president Recep Tayyip Erdogan unleashed a brutal crackdown, rounding up sympathisers and purging the public sector of thousands of workers.

Ankara predominantly blames the violence on the Kurdistan Workers' Party, or PKK.
Advice from the UK Foreign Office also warned Brits to steer clear of the country
The barbaric Islamic State (ISIS) has also claimed responsibility for some of the attacks.
Advice from the UK Foreign Office also warned Brits to steer clear of the country.
It classes the country as being at a "high threat from terrorism".
The FCO said: "There is considered to be a heightened threat of terrorist attack globally against UK interests and British nationals, from groups or individuals motivated by the conflict in Iraq and Syria.
"You should be vigilant at this time."
Source: www.express.co.uk