The scandal surrounding the grandfather of the Armenian revolutionary Prime-minister has yet to subside.  This fact has aroused great interest both in Armenia itself and in Russia.
It all started with Mr. Pashinyan sharing the photo of his late grandfather, "extolling the hero." However, the Prime-Minister's rivals, using the Memorial database, found that one Nikolai Vartanovich Pashinyan, born in 1913, a native from Yenokavan village, 5.59 miles away from Ijevan (Pashinyan was born in Ijevan), was cooperating with the Nazis and was killed on 29 September 1943. All relevant documents have also been attached to the website of the memorial.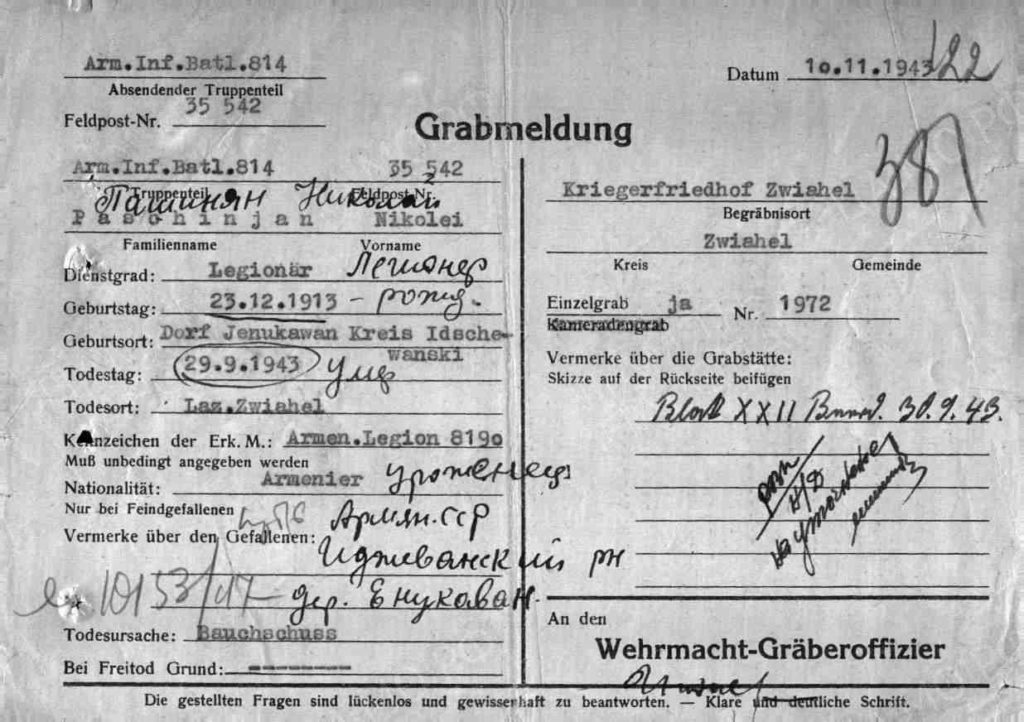 This news has been an information bombshell. Soon, the Prime-Minister's supporters tracked down "the right Pashinyan" – Nikolai Arakelovich Pashinyan, the sergeant of the Soviet Army, who was born in 1913 and went missing in February 1943. Pashinyan's proponents argue that this person is Pashinyan's grandfather. In "evidence," Pashinyan's supporters and press-Secretary Mane Gevorgyan refer to Pashinyan's Facebook profile, in which he indicated Nikolai Arakelovich Pashinyan, not Nikolai Vartanovich Pashinyan. But..! As the saying goes, the devil is in details. Pashinyan posted it on 9 May, at 8.41 AM, writing his grandfather's name as "Nikol Pashinyan" (arm. Նիկոլ Փաշինյան). After the scandal broke and Pashinyan's people found the "right grandfather," Pashinyan edited his post at 15.40, adding "Arakel" (arm. Առաքելի ). After that, the officials happily claim that it is an entirely different person, and the Prime-minister's grandfather was not a henchman of Nazi. However, Facebook keeps the edit history; anyone willing can see it.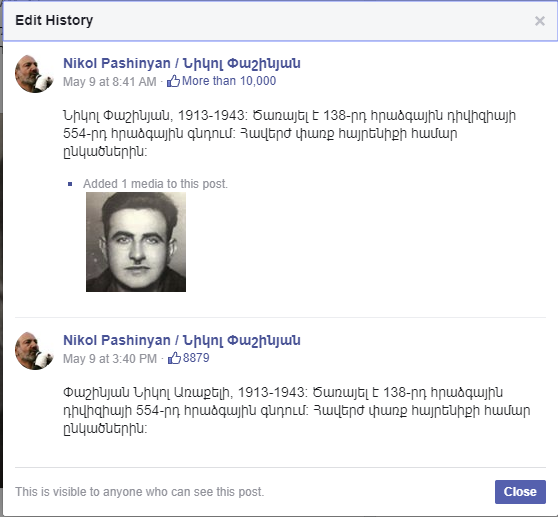 Pashinyan's proponents believed no one would notice this detail.
We should also remember that during the Second World War, the Soviet Union was persecuting the families of surrendered soldiers and officers. Soviet soldiers, who switched sides and joined Nazis, were deliberately getting rid of their documents and registering under different names. It is possible that the grandfather of the Armenian Prime-Minister did so, which lead to confusion in the archives.
Social networks help to disseminate different ideas and propaganda, but sometimes help to catch a political gambler.